As part of ongoing efforts to make shopping at Target even more convenient, Target just announced it will acquire Shipt, a rapidly growing same-day delivery company, for $550 million.
The move—one of the largest acquisitions in Target's history—means same-day delivery will be an option at about half of Target stores beginning in early 2018. And by the 2018 holiday season, it will be an option at the majority of Target stores, and in all major markets.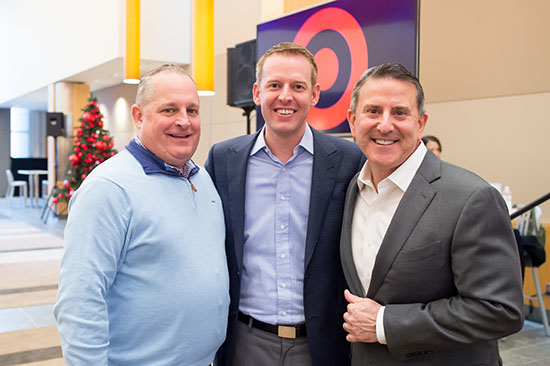 Shipt CEO and founder Bill Smith (center) with Target Chief Operating Officer John Mulligan (left) and CEO Brian Cornell.
To find out more about the decision and the changes it will bring, we sat down with John Mulligan, Target's chief operating officer, and Bill Smith, CEO and founder of Shipt:
Why did Target decide to acquire Shipt?

John: Same-day delivery is a service that our guests are asking for more and more often. By acquiring Shipt, we'll be able to take advantage of our network of stores and Shipt's technology platform and shopper community to quickly offer same-day delivery to millions of our guests. In early 2018, about half of our stores will offer same-day delivery of groceries, essentials, home, electronics and other products. And that's just the beginning. By the end of 2019, we'll offer same-day delivery on all the major product categories at Target.
If you look at the big picture, this acquisition will mark an important milestone in an ambitious strategy we laid out in early 2017, which included strengthening Target's supply chain and digital capabilities to make shopping at Target easier, more reliable and more convenient for our guests.
We've already made significant progress, expanding ship-from-store, launching Target Restock and Drive Up, acquiring Grand Junction, a last-mile transportation technology company, and expanding ship from store capabilities to more than 1,400 stores nationwide.
Can you tell us how Shipt works?
Bill: We're a membership-based grocery marketplace and same-day delivery platform that allows customers to place online orders for fresh food and household essential deliveries, such as paper towels or cleaning supplies, from nearby stores. Our fleet of shoppers pick the items and deliver to our customers' doorsteps within the same day. Since I founded the company in 2014, we've expanded to more than 72 markets across the U.S.
What sets us apart, and really one of the big reasons we were drawn to Target, is the value we place on delivering quality, personalized experiences to our customers. Our localized network of more than 20,000 shoppers goes above and beyond to make sure our customers are well served.
For instance, we make sure that the same person who shops for our customers' items is also the person who delivers those items. We also recently built a rating system that allows customers to give feedback in real-time. If they rate a shopper highly, they are more likely to be paired with them again.
John: I second that sentiment whole-heartedly. Beyond its remarkable same-day delivery network and operation, Shipt brings a differentiated, customer-focused approach. That's when we knew it was the right fit—they're completely in line with Target's commitment to delivering a convenient, exceptional experience for our guests.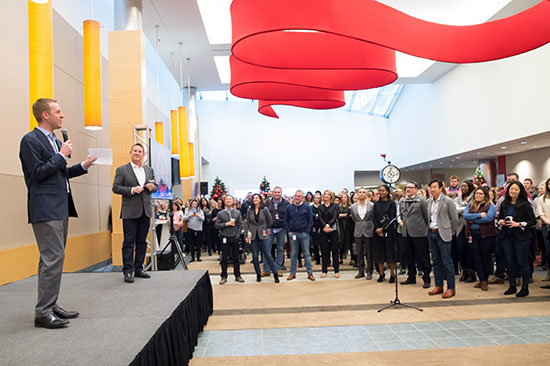 Bill Smith greets the team and leaders at Target's Minneapolis headquarters shortly after the announcement.
How will Shipt and Target now work together?
John: Shipt will be a wholly owned Target subsidiary, but its offices will remain in Birmingham, Alabama, and San Francisco, and the team will operate independently with Bill at the helm. We're coming on as a Shipt retail partner, and will expand into more markets and product categories over time.
Bill: It's win-win for us. We get to continue growing this company we love, at a more accelerated pace. With Target's support, we'll be able to reach more customers in more markets across the country. We'll also continue to grow our marketplace approach with new and existing partners, a strategy that drives scale and efficiencies for all.
How can guests start getting same-day delivery from Target using Shipt?
Bill: Beginning next spring, Target guests can visit Shipt.com to see if it's available in their area. If it is, the $99 annual membership fee gets them same-day delivery services from their local Target store for the year.
John: Shipt's signature personalized service and convenient same-day delivery? We can't wait to roll it out to our guests!
For more about Target's acquisition of Shipt, see the announcement press release here.