Welcoming a new baby is full of excitement and joy. But figuring out how to dress a changing body without breaking the bank can become intimidating and stressful. The good news? It doesn't have to be! The solution is no further away than the place expecting moms already know and love to shop—at Target and on Target.com. We're introducing a new, exclusive line of affordable maternity fashion, Isabel Maternity by Ingrid & Isabel, created in partnership with high-end maternity brand Ingrid & Isabel. An innovative company with more than 15 years of experience, Ingrid & Isabel is an expert in creating on-trend, fit-focused clothes for moms-to-be.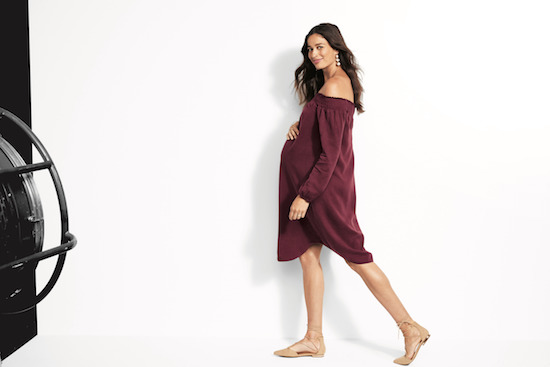 "With all of our new brand launches, we're focused on addressing our guests' evolving needs and their desire for style, value and newness. Isabel Maternity is a prime example of that," said Mark Tritton, EVP and chief merchandising officer, Target. "We know pregnancy is an important life moment, and we've set our sights on becoming the ultimate destination for moms-to-be—that begins with helping mom look and feel her best during all stages of her pregnancy and after. By partnering with Ingrid & Isabel—a true trailblazer—we hope to make mom's journey into motherhood more easy, comfortable, fun and of course stylish."
Isabel Maternity will include 120 different items with unparalleled fit, function and fashion, ranging from the exclusive Bellaband for Target and seamless basics to on-trend fashion pieces like off-the-shoulder dresses. From expecting moms who are just a few weeks in with pants that don't quite button to the moms-to-be who are starting down the final stretch, there's something in the assortment that caters to everyone.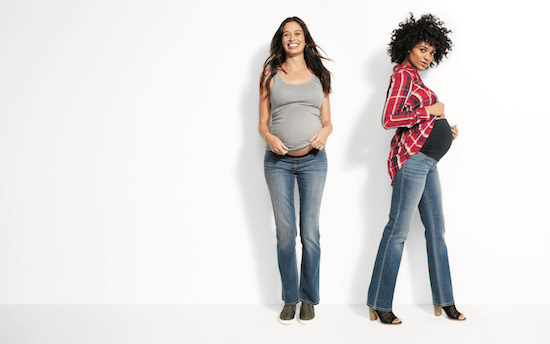 Wanting to know more about the line, we sat down for a Q&A with Ingrid Carney, the brains behind Ingrid & Isabel. Read on:
Let's start at the beginning—the "birth" of Ingrid & Isabel. What inspired you to create your own maternity line?
The birth of Ingrid & Isabel came in 2001 when I was pregnant with my daughter Isabel, and one morning my belly had popped and I couldn't button my pants. That's when I fashioned what we now know as the Bellaband. When it became a "hit", women asked for more. I spoke with them about their wants, as well as their experiences and frustrations with maternity wear. I was inspired. Ever since and even today, we talk with moms constantly so that we design with their needs in mind. I think that's what makes this brand so special.
You've been in the maternity space for more than 15 years now—what inspired this partnership with Target?
We saw partnering with Target in the maternity space as an opportunity to reach and impact the lives of more expecting women than ever before. Our collaboration with Target has resulted in an assortment of functional, fashionable maternity options at an incredible value—that's really what Isabel Maternity is all about.
How is Isabel Maternity different from other maternity lines?
It all comes down to innovation and focus on fit. We tested every item on real, pregnant women to ensure we were producing a reliable and flattering fit for every stage of pregnancy and beyond. The whole design process revolved around nine key principles: customized fit, function and fashion, versatility, fabrics, silhouette, color, print and pattern, details and care. You'll see that every single product—all 120 of them!—touches upon each of those nine pillars.
Of those 120 products, do you have any favorites?
Of course! I'd be remiss if I didn't include the patented Bellaband for Target—the newest maternity band we developed specially for Target guests. We're also launching Afterband for Target, which is perfect for women who need support and comfort once the baby arrives. The activewear and denim options are also outstanding—they feature our patented Crossover Panel, which offers moms-to-be some much-needed back support as the belly grows.
But wait, there's more: To help you find your perfect Isabel Maternity pieces, Ingrid took it to the next level by breaking the Target collection down into must-have pieces for each stage of pregnancy.

The Four Stages of Maternity Wardrobe
Isabel Maternity by Ingrid & Isabel
Stage 1: Prepping for the pop
You're expecting! Though your body might not be changing yet, the fatigue, nausea and soreness are setting in. This is a good time to:
Shop your own closet. Stretchy knits and loose draped styles may still work before you really start to show.
Bellaband for Target: One of the first changes you'll see is a growing belly and the Bellaband for Target is designed to hold up unbuttoned pants and maternity wear that's too loose. Best part? You can use it all throughout your pregnancy.
Stage 2: Building the basics
The belly has popped! Now you'll really start to see your shape and body start changing. Start building out the foundations of your pregnancy wardrobe with:
Seamless layers: The Seamless Cami and Seamless Belly Leggings are perfect smoothing first layers that adjust to your changing shape throughout each stage of pregnancy.
Acrivewear: Isabel Maternity activewear features the Crossover Panel that offers gentle back support as the belly grows. Moms will love the Active Legging + Crossover Panel and the Active Capri + Crossover Panel.
First Nursing Bra: Once your bras start to feel snug, slip into the Seamless Drop Cup Nursing Bra, designed specifically to adapt to a changing body.
Stage 3: Bumpstyle
You're showing! You're likely still adjusting to your changing body, but now is your chance to show off your bumpstyle with:
Denim featuring the crossover panel: The patented Crossover Panel paired with quality denim provides gentle lower back support as your belly grows. If you prefer an under-the-belly style, check out the inset panel styles that sit comfortably at the hips.
Dresses: From work week to baby showers, Isabel Maternity dresses like the Pleated Tank Dress, help navigate a lot of occasions, while offering a custom, comfortable fit.
Stage 4: All Things After
Babe has arrived! First days with baby can be exhausting, so it's important to invest in products that will help your body recover and heal, like:
Cozy Wrap: Soft and cozy, this wrap is a perfect layering piece during your pregnancy and doubles as a nursing cover after baby.
Afterband for Target: A seamless support band for shaping and smoothing after pregnancy so you can feel comfortable and confident while you recover.
Double Layer Nursing Midi: Styles, like this midi dress, that fit during pregnancy and after and offering easy nursing access are key.
Isabel Maternity will be available in most Target stores and on Target.com at prices ranging from $9.99 to $39.99.