Haz clic aquí para leer esta historia en español.
For Target, our communities are home. And our teams and guests? They're family.
That's why we're thrilled to reopen our doors at our Lake Street store in Minneapolis and our Buckhead South store in Atlanta this week. (That's TC Pilson, Lake Street store director, above at the store's reopening on Nov. 10). After closing due to damage sustained during the demonstrations for racial justice in late spring, we rebuilt the stores from the ground up in just five months, making them two of the fastest rebuilds in Target history. As our teams welcome guests back this week, we're excited for our communities to not only have a safe, easy and convenient place to shop, but also a place where they feel joy and pride when they visit.
Stronger than ever on Lake Street in Minneapolis
What can guests expect when they arrive at the Lake Street Minneapolis store? The friendly—and familiar—faces of their local Target team, for one. Like Hayato Yang, an executive team lead for Food and Beverage. For him, the Lake Street reopening was a reunion.
"Coming back to this team, this location—it's like seeing family again. This is where I began my journey with Target, and being here with the heart of the store beating again is a joyful experience," says Hayato. "It's exciting to show our community that we're not going anywhere. We're coming back stronger than ever. I'm so happy we can be a place for people in the community to come with their families and see their friends and neighbors again."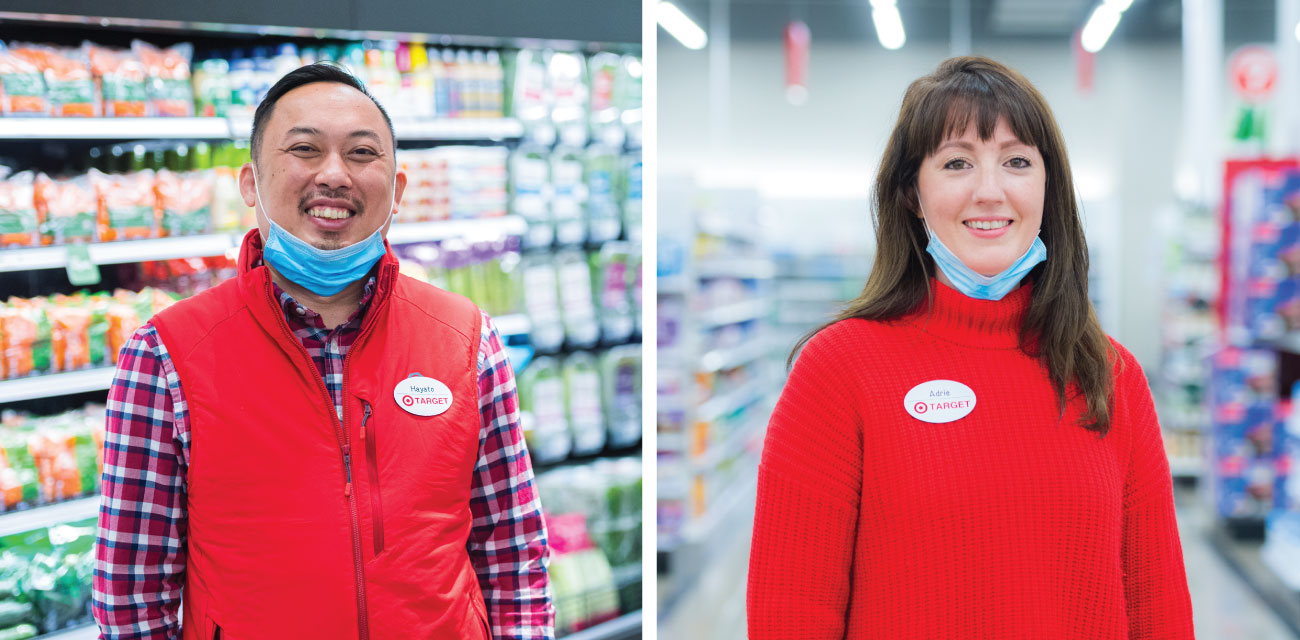 From the assortment to the layout, we've listened to guests' feedback to rethink and reshape our Lake Street store to better serve the local community. That includes an additional entrance, a more accessible pharmacy, a larger food and beverage section and an expanded assortment in categories such as beauty, toys and food.
"It's all about making sure the people who live in this community feel like this is home," says Adrie Foreman, Human Resources executive team lead at Lake Street.
While the store was closed, Adrie stayed connected to the Lake Street team, many of whom live in the surrounding community, to ensure they had the support they needed. Now as the store reopens, most Lake Street team members are returning—a point of pride for Adrie and her team.
"Target is all about family, and you hear that so often at different locations. But this store is even more of a family. I've always said it has a type of heartbeat, there's a pulse to it. I felt that on my very first day," says Adrie. "When talking to my team this summer, people kept saying, 'When are we going home?' For us to bring our team members back to their home is very, very fulfilling."
Our partners in the rebuild are also deeply invested in the area. Like Noor Companies, a Minneapolis-based and diverse-owned business, which served as our general contractor for the Lake Street store. And ConstructReach, which helps diverse young adults gain valuable work experience in the construction industry, helped with construction efforts at both Lake Street and Buckhead South.
We also made sure we invested in the Lake Street community's overall rebuild efforts, even while our store was closed, by donating more than $125,000 in food and essential supplies to those in need and committing to 10,000 hours of pro-bono consulting services to Black-, Indigenous- and people-of-color-owned local businesses as they rebuild.
"I've been with Target for 19 years, and volunteering and connecting with the community is key to our purpose," says Bawang Longar, Assets Protection executive team lead at Lake Street. "We're part of this neighborhood and want to be part of its healing process, too."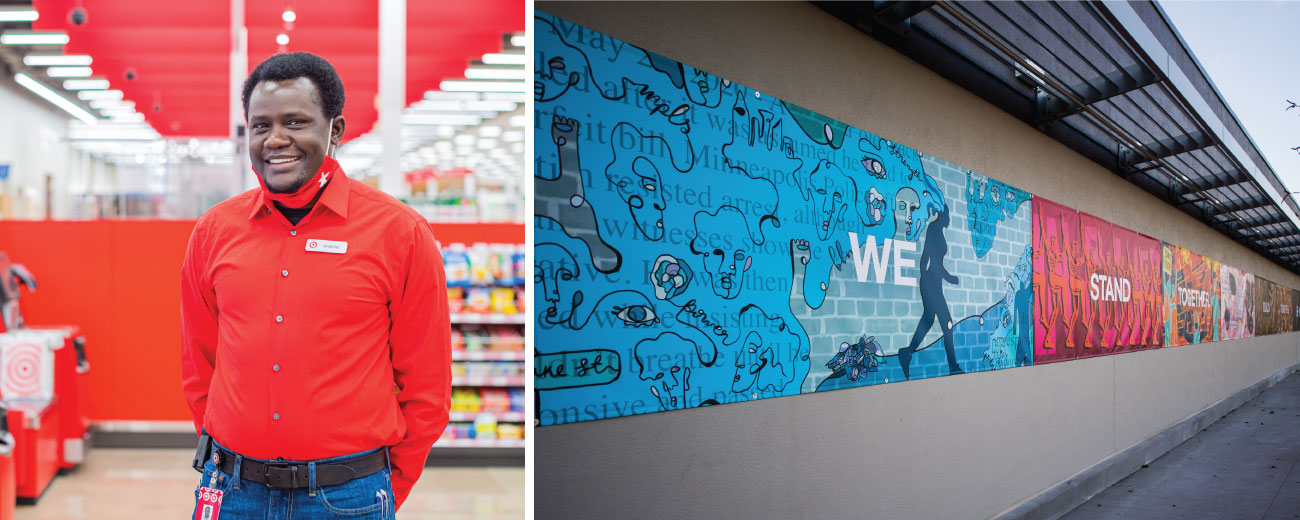 Renewed purpose at Buckhead South in Atlanta
Our community focus was also central to rebuilding Target's Buckhead South store. Guests will find enhanced beauty and electronics areas and increased Order Pickup and Drive Up capacity to meet their needs. Stephen Pearl is the store director at Buckhead South, and he's excited to share these changes with guests.
"Buckhead South is not just another store where guests shop—it holds a special place in the heart of our local community," says Stephen. "After the store closed in June, my team dispersed to other stores, and so did our guests. The connections we formed at Buckhead South were so strong that our guests still recognized their team at the other stores. When I found out that we would be open again in time for the holidays, I was filled with joy knowing we'd be there once again for our community."
Like Lake Street, Target's Buckhead South team serves the community both inside and out of the store—work that is more important than ever in the face of a challenging year. Last year, the team volunteered more than 5,400 hours to serve Buckhead South and the greater Atlanta area. That commitment to the community—and a superior guest experience—continues to be top priority for Stephen and his team.
"While the store was closed, I heard from many of our guests about how much they missed the feel of our location," says TaTiana Moore, specialty sales team leader for Style at Buckhead South. "Now that we're open again, we're committed to building on that already strong connection. I'm so grateful for the support the store has received from the community, and I can't wait to be reunited with my team and welcome back our Buckhead South guests."
We're excited to invite guests back to our Lake Street and Buckhead South stores, and stores already reopened in Oakland, Chicago and beyond. And while the rebuilding phase of these projects is now complete, the work is far from over. We'll continue to listen and learn from our guests as we serve our communities into the future.