Más Que/More Than: It's a statement that reflects the diverse identities, experiences and culturesof the Latino community—and it's the inspiration for all the ways Target is celebrating Hispanic Heritage Month this year. From curating a product assortment developed by Latino founders to lifting up the stories of Hispanic guests, entrepreneurs and Target team members, we'll spend the month—and well beyond—celebrating and elevating their influence and contributions.
Let's take a look at some of the ways our guests and team will celebrate the month.
At Target stores …
We are shining a spotlight on beauty, baby and grocery brands and products founded by Latino and Latina entrepreneurs (think: Honey Baby Naturals, Siete Foods, Café Don Francisco and Lil' Libros). And our Beauty departments at 250 stores nationwide will feature a dedicated Hispanic Heritage Month endcap through the end of October, featuring Honest Beauty (Jessica Alba); Alamar Cosmetics (Gabriella Trujillo); Botanika Beauty (Ada Rojas); and Pacinos (Eric "Pacinos" Roa)—making it even easier to discover and shop Latino-founded brands.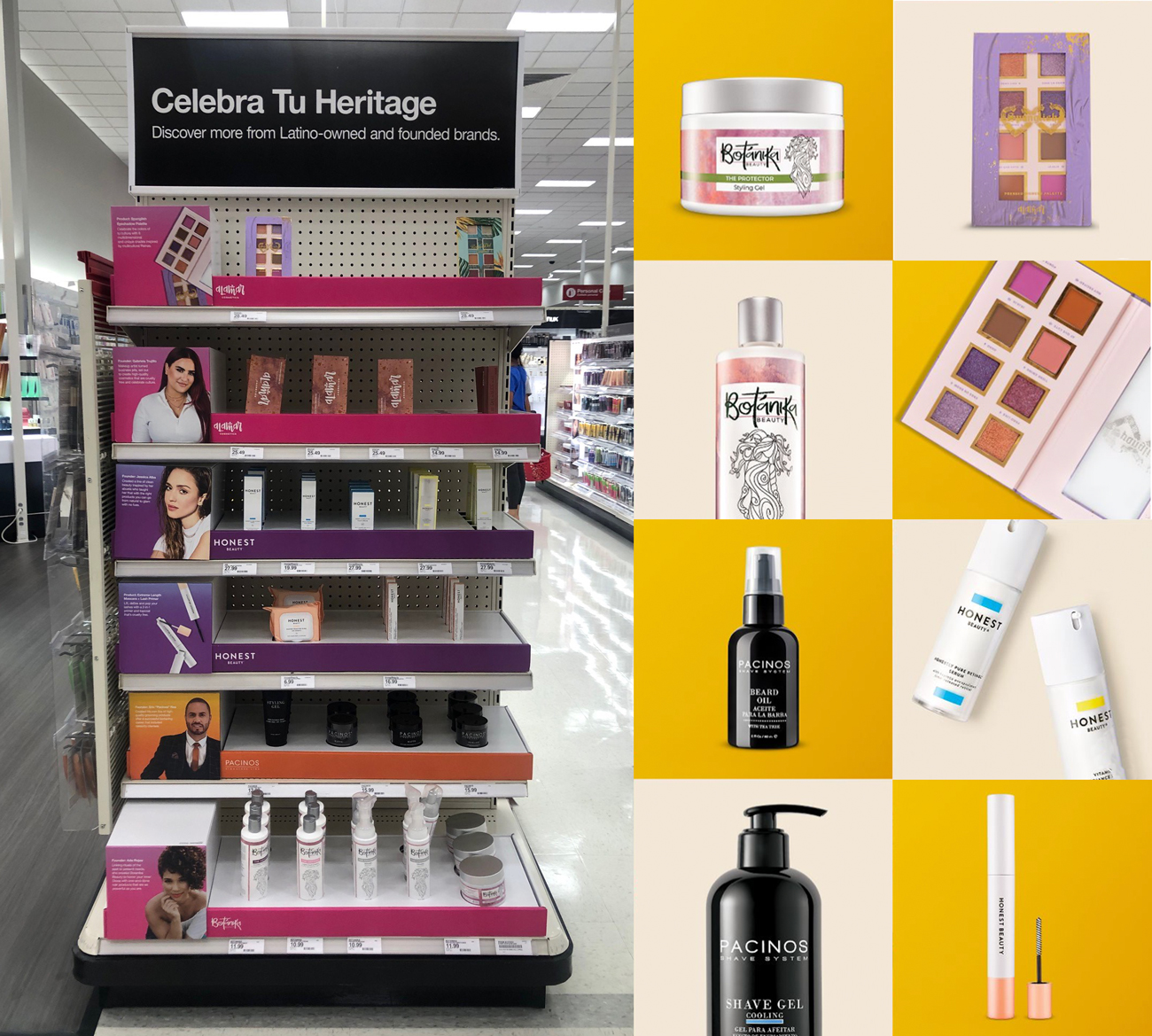 On Target.com …
Our Más Que Hub is the online destination for Hispanic Heritage Month and beyond. It features an assortment of curated products created for and by the Latino community, stickers and templates for Instagram sharing and videos spotlighting Latino and Latina artists and entrepreneurs. Here's a sneak peek from one of those videos:
Through stories …
Hear from Honey Baby Naturals founder Aisha Ceballos-Crump, MN United FC Captain Ozzie Alonso and others on what their identity means to them—and it's all on the hub. Want to include the kiddos? Join the Target Fam Facebook Group, where Lil' Libros founders Patty Rodrigues and Ariana Steiner will host live readings of their popular children's books for the whole family. Finally, Target has partnered with mitú to spotlight real-life stories from Latinos covering everything from "Being Afro Latino" (available right here) to raising bicultural kids and entrepreneurship.
In the community …
Target will continue to support the Hispanic Scholarship Fund, a relationship now in its 20th year, in addition to serving as lead sponsor for the Hispanic Heritage Foundation's 33rd Annual Hispanic Heritage Awards, which advances Hispanic participation in corporate America. And guests in Denver will get to see a hand-painted mural by artist and activist Armando Silva, whose vibrant work depicts colors and textures inspired by his heritage, mountains and animals native to Colorado, with more art installed at six soccer play spaces around the Denver area by the end of fall. (It's also part of Target's commitment—alongside the U.S. Soccer Foundation—to create 100 mini-pitches by the end of 2020, bringing the game to communities nationwide.)
And for the Target team …
Hispanic Heritage Month will bring even more opportunities for connection and celebration. Target's Hispanic Business Council—which helped shape Más Que along with our multicultural marketing team—is creatinteam-member panel exploring the intersection of diversity and personal identity and a virtual expo spotlighting Latino and Latina artists and entrepreneurs. Hear more on Team Target's Instagram throughout the month as we share their stories of diversity, personal identity and heritage.