Soccer's so much more than a game—it's a passion that connects people of every age and culture all around the world. And it's taking center stage…er, field… as one of the fastest-growing sports in the U.S. (Over nine million kids laced up their cleats for youth soccer league last year alone.) So we're super-excited to step onto new turf (para obtener los detalles en español, haga clic aquí) and help our guests—whether they're soccer newbies, seasoned players or die-hard fans—be their best on and off the field. The game plan: Become the official partner of Major League Soccer (MLS). Show our hometown support by putting the Target bullseye front and center on the jerseys for MLS' new Minnesota United FC. And partner with youth soccer organizations to give more kids a chance to play.
"There are so many things that drew us to soccer—it's multicultural, watched and played by families and is growing immensely in popularity," said Rick Gomez, senior vice president, Marketing, Target. "We've partnered with several incredible organizations and vendors to invite soccer fans everywhere to engage with the Target brand in new ways."
Check out a few of the highlights: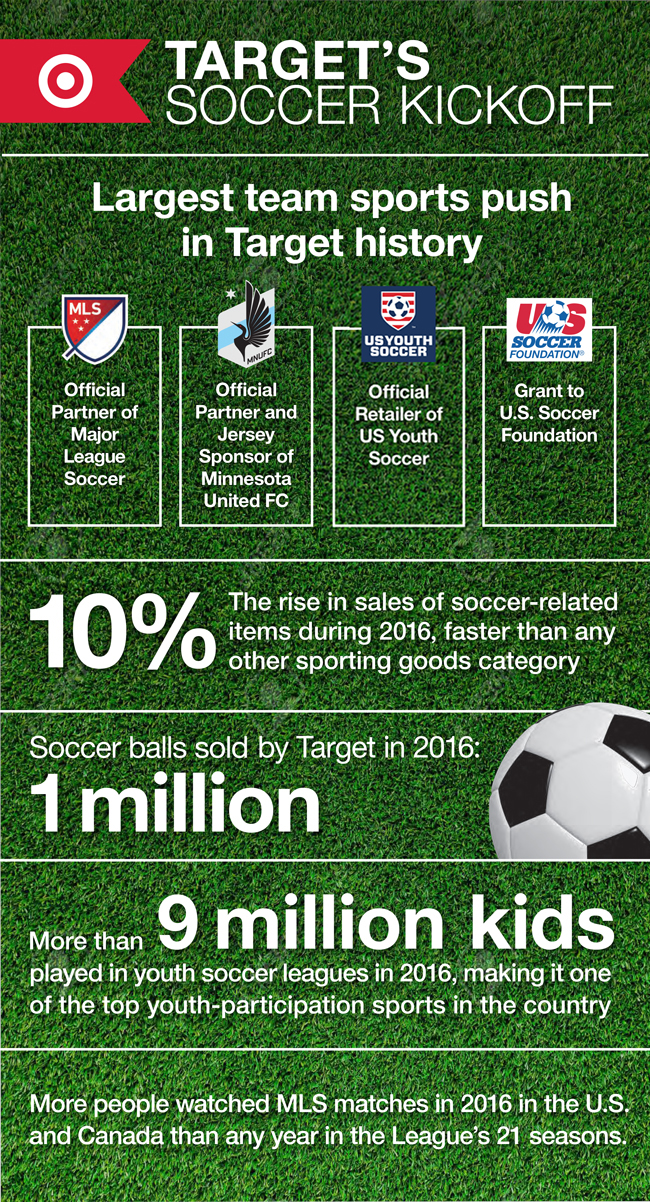 Target's Soccer Kickoff
Largest team sports push in Target history
Official Partner of Major League Soccer
Official Partner and Jersey Sponsor of Minnesota United FC
Official Retailer of US Youth Soccer
Grant to U.S. Soccer Foundation
10%: The rise in sales of soccer-related items during 2016, faster than any other sporting goods category
Soccer balls sold by Target in 2016: 1 million
More than 9 million kids played youth soccer leagues in 2016, making it one of the top youth-participation sports in the country
More people watched MLS matches in 2016 in the U.S. and Canada than any year in the League's 21 seasons
And, while we wait for the 2017 season—and all the fun—to officially kick off, here's a little motivation:
Keep watching a Bullseye View for more on Target's soccer plans.