Target's continuing to grow our presence in the Big Apple, and this time we're bringing some Tarzhay magic to the heart of Times Square.
Meeting guests where they are ...
On April 3, we opened our 30,000-square-foot Times Square store, a shining example of our ability to open and operate stores in spaces of any size — including where a traditional store may not fit — and tailor them to best serve the community. Think the seamless shopping experience guests know and love, local touches that help stores fit nicely into their new neighborhoods and our incredible team bringing that only-at-Target joy. This same strategy also helps us open large stores, like the 70,000-square-foot store nestled in the mountains of Jackson Hole, Wyoming, and even bigger ones in the future (we're planning stores up to 140,000 square feet this year). It's all about showing up just where our guests need us.
Ready to be dazzled by this strategy in action? Take a look at what's in store at our new Times Square location.
Our name in lights
Speaking of local touches ... In true Times Square fashion, as you approach the store you're greeted by an 84-foot-high curved digital display (as high as a tennis court is long) showing fun images like a transforming Bullseye logo or our beloved Bullseye the dog with an animated tail. The Times Square location is especially convenient for visitors and locals alike, as it's right between two of NYC's largest subway stations, giving you easier access from all over the city.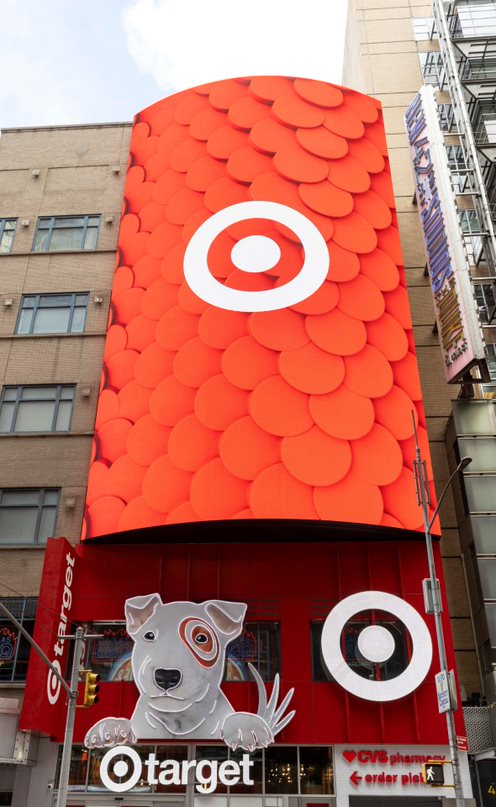 We *heart* New York
The store is sprinkled throughout with unique design elements that nod to its big city surroundings. Colorful mosaic tiles spell out "Times Square" on the lobby walls, while exposed ceilings and suspended steel panels channel the industrial vibe of a subway platform. Once you exit the lobby, polished concrete floors, backlit wall art and bold graphics behind checkout bring to mind the beautiful buildings and artwork you see while strolling down a Manhattan street. Plus, grab-and-go food options help you fuel up and grab a treat on even the busiest of days.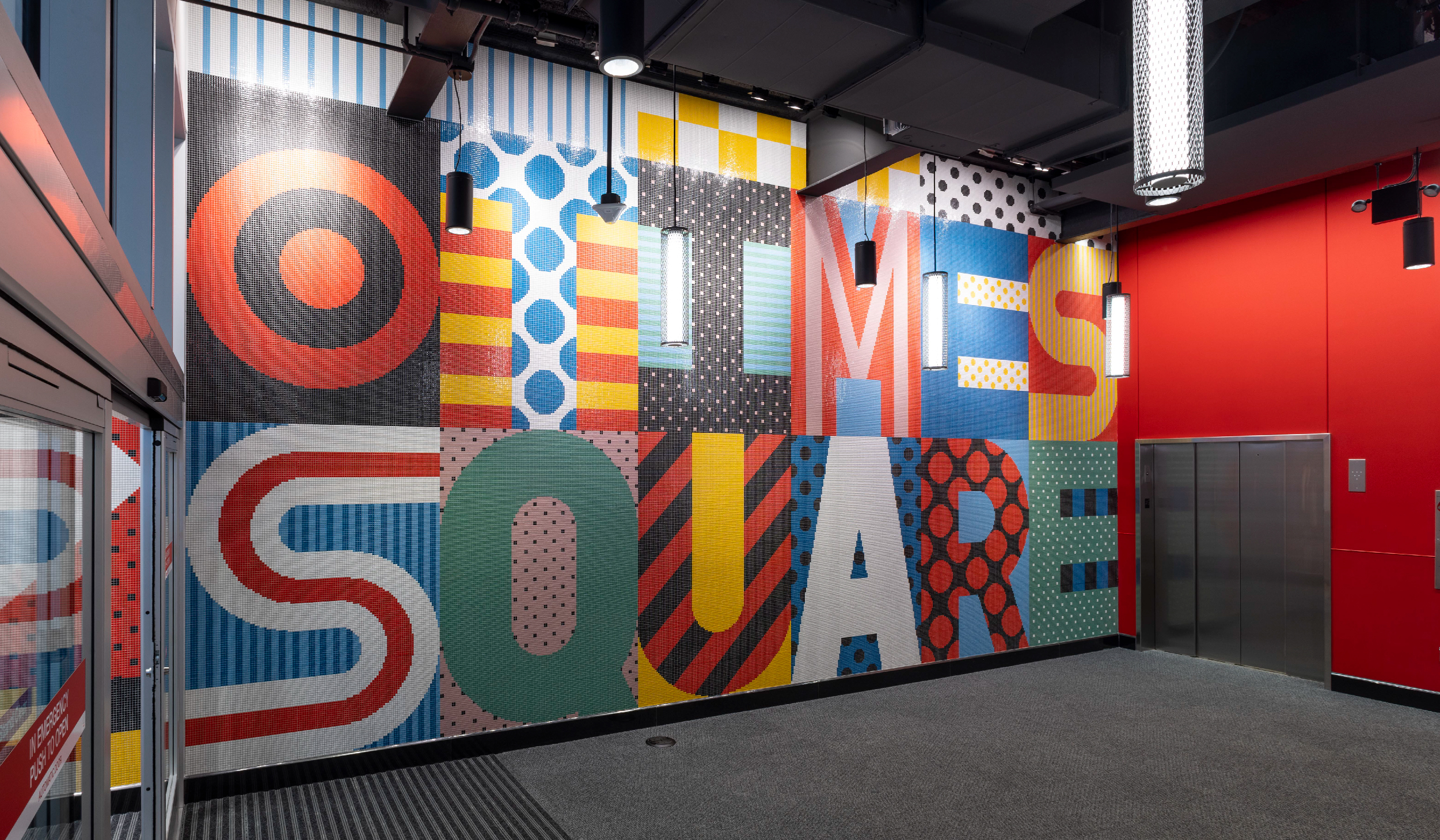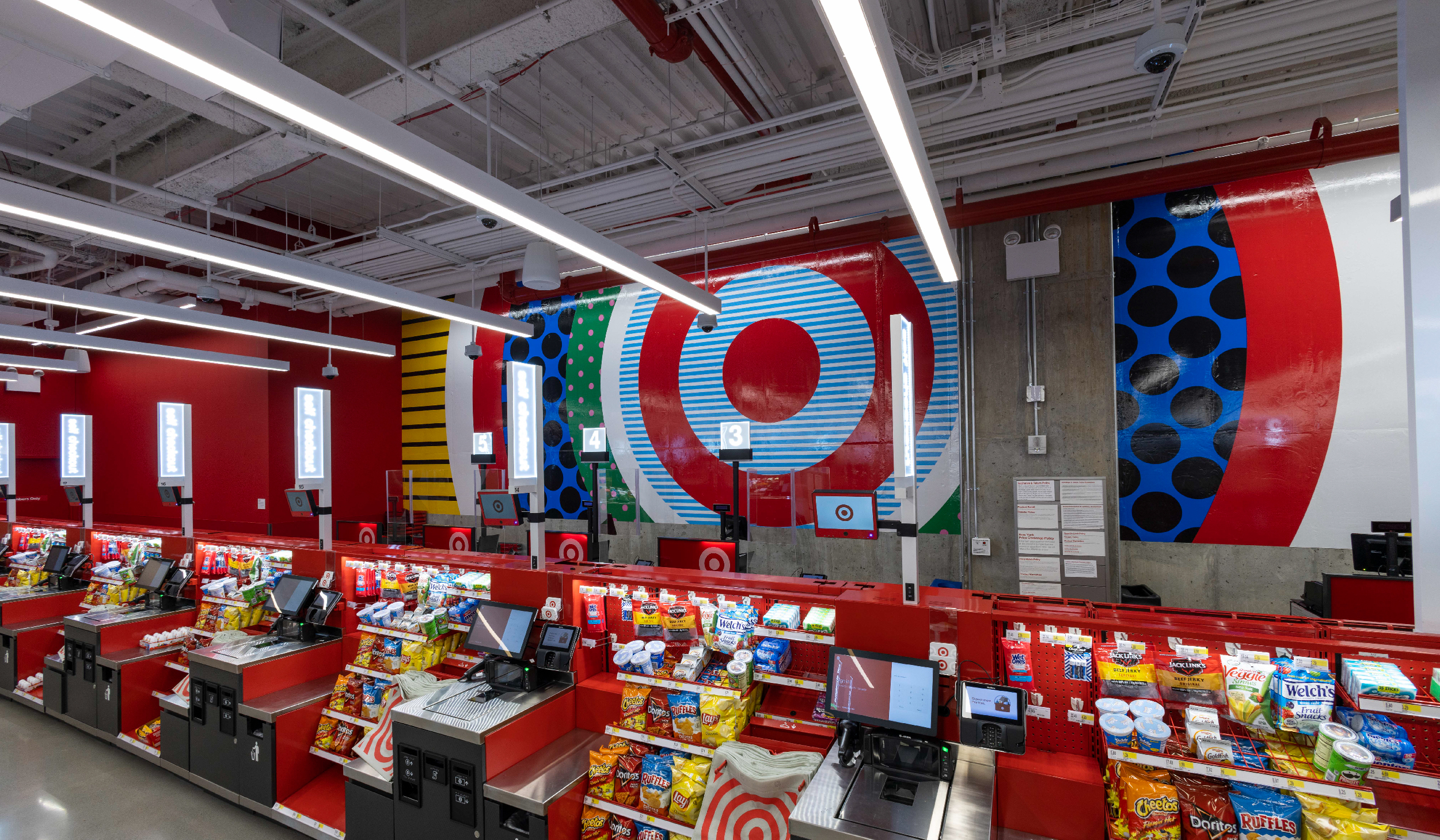 The Times Square store will also feature our industry-leading fulfillment options like Order Pickup so that you can get whatever you need in little more than a New York minute. We'll continue to offer the same easy and inspiring shopping experience for our guests — wherever they may be.