At Target, we believe in the power of stories. That's just one of the reasons we've partnered with the Conferences for Women for their inaugural storytelling contest, which lifts up and shares the stories of remarkable women.
The Conferences for Women is a nonprofit organization that supports women through events around the country, building connections and amplifying the voices of women from all walks of life. The organization also provides resources to help women build skills that support their personal and professional lives.
"As a company, we're guided by our purpose to help all families discover the joy of everyday life," said Target's Chief External Engagement Officer Laysha Ward. "Additionally, it's important for individuals to live out both their personal and professional purpose, and our partnership with The Conferences for Women helps us celebrate the stories of women who overcome obstacles to achieve great things for their families, their communities and themselves."
Thousands of women have submitted their stories to the contest, with winners receiving a special moment of recognition at a conference and a Target GiftCard. Their stories inspired Target so much that we brought the contest to our own team. This February, we asked the Target family to share stories of their colleagues who bring joy to our guests, fellow team members and communities every day. A panel of Target leaders chose five submissions that exemplified our company's purpose. Read on for the stories of five of our extraordinary team members.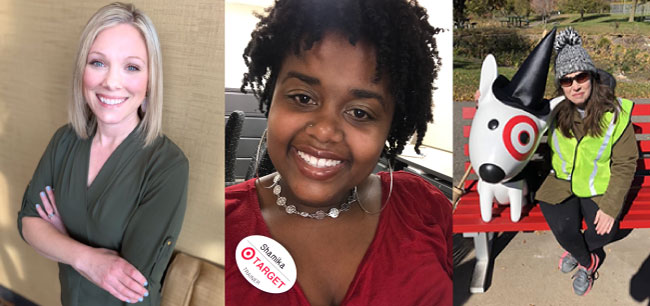 Last year, one of our store team members in Omaha, Nebraska, was racing the clock to find a kidney donor. Then, something amazing happened: His teammate, Visual Merchandiser Carrie, stepped up to help, undergoing tests and eventually volunteering to be his donor after learning she was a match. The two (who also share a birthday) met on the job, and struck up a friendship as they served guests. Today, after a successful transplant surgery in January, both Carrie and her teammate are doing well and sharing their story to help raise awareness of the importance of kidney donation.
Five years ago, Senior Designer Sarah experienced an unthinkable tragedy when her daughter, Janie, unexpectedly passed away. As Sarah's teammate puts it: "Through this personal tragedy, Sarah not only became an advocate for Janie, but also a pillar for her St. Paul community." Sarah would go on to lead the build of a playground in her daughter's memory. The playground has become the center of their community and Sarah tirelessly volunteers there, pulling off events like an annual trick-or-treat trail and Easter egg hunt. It's all to bring families together in the name of sharing joy.
As a learning mentor in apparel and accessories, Maureen works diligently to make sure her trainees have the skills to go above and beyond for guests. After 18 years at Target, she's also developed special bonds with many of her store's regulars. One teammate recognized Maureen for the service she provides two guests with visual impairments. "Maureen spends hours helping them find the perfect outfits, ordering what they can't find online and helping them decipher how to care for the garments," Maureen's teammate said. "Watching her in action is truly inspiring, and yet another example of how the Target family sparks joy for each other and our guests."
Store Director Lasha's story begins at our store in Grand Forks, North Dakota. Her leadership inspires her team to consistently meet their volunteer goals in the community. Lasha is credited for helping her team put our guests first, providing training to help them develop their service. But Lasha's story extends beyond her store. On top of her work and volunteering, Lasha and her husband open their home as foster parents. As one of Lasha's teammates puts it: "The positive impact she has on these kids (she also has two of her own!) is simply amazing and will change their lives forever."
HR Expert Shamika is always on the go. On top of volunteering at her church every Sunday, working weekly at the local homeless shelter and mentoring clients in her community with career advice, she also plans all the volunteer events at our store in Charlotte, North Carolina. As one of her fellow team members said: "Shamika is a ball of energy when it comes to helping others, both in our store and in the community."