It's amazing how quickly kids grow. Just ask TV host and mom of five Jacky Bracamontes, whose youngest daughters—Renata (2) and twins Emilia and Paula (4 months)—are sprouting up so fast, they've outgrown their car seats!
To make things easy for her busy family, Jacky loves using Target's car seat trade-in program. The latest event is going on now: April 22 through May 4, guests can bring their unwanted car seats to Target for recycling and receive a coupon for 20 percent off a new car seat, stroller or select baby gear*.
This week, Jacky stopped into her local store to drop off her daughters' old car seats and get great deals on some new gear they need. While cruising the aisles, she told us more about how this program has helped her family stay up-to-date with everything they need to keep the kids safe and comfy in the car—and made recycling their old seats a breeze.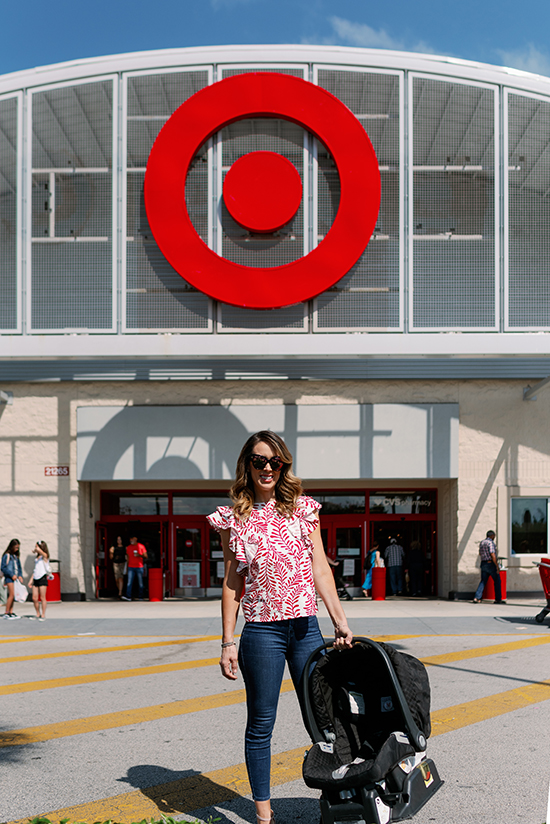 How does Target's car seat trade-in program make things easier for busy parents?
Our children grow up so quickly and before we realize it, they need new car seats and boosters. Meanwhile, we find ourselves storing all the outgrown baby items because we don't know what to do with them! Target makes it so easy to solve both problems. My family already goes on a weekly Target Run, so it was easy for us to bring along our car seats today.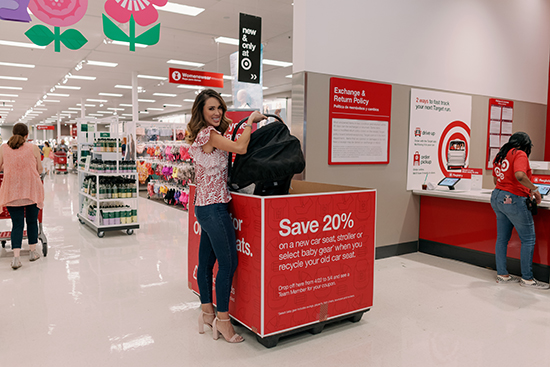 Recycling is very important to me. Not only does this program give us the opportunity to recycle our old car seats, but we also love using the 20-percent discount toward new baby products on our list.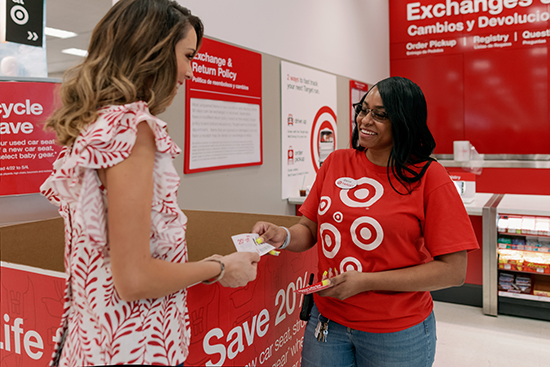 What are your tips and tricks for purchasing a new car seat?
The most important thing for me is my children's safety. When our family goes shopping, we carefully review the products we're buying while always looking for the best prices. I like practical products—for example, a car seat that I can easily remove and clean. If I'm driving without the girls, I want to be able to easily take it out and put it away until we need it again. So I pay attention to those kinds of details while keeping safety top-of-mind.
How are you teaching your kids to take care of the planet?
Ever since my kids were very young, I've been teaching them that taking care of the Earth is very important. For example, we watch how much water they use during bath time—even though it's tempting to play! And of course, we talk about why it's important to recycle products when we can. Sometimes we reuse things to craft or create art. If we do throw things away, we're conscious of our waste and separate out materials like organics and biodegradables.
I wanted our kids to learn these things from a young age so that they're aware of how to care for the planet and the well-being of others. So at the end of the day, it's beautiful to know that the used car seats we brought to Target today will get a new life when they're recycled into other products.
Don't miss out on this great deal! Find a car seat drop box at a store near you, and shop our full assortment of baby products on Target.com.

Haz clic aquí para leer esta historia en español.
*Restrictions apply.