Earth Month is in full swing, and here at Target, we're building on the same good work we do all year long: putting innovative solutions in place across the company to leave our planet better for future families.
One way we do that is by incorporating eco-friendly practices into all aspects of our business, from our daily operations, to the products we sell, to the shopping experiences we create. It's all in how we empower teams, serve guests, foster communities and design tomorrow—the four pillars of our future at heart corporate responsibility strategy.
Through these efforts, we're putting the needs of people, communities and the planet we share at the center today, to help create a better tomorrow. Take a look at five important examples happening right now.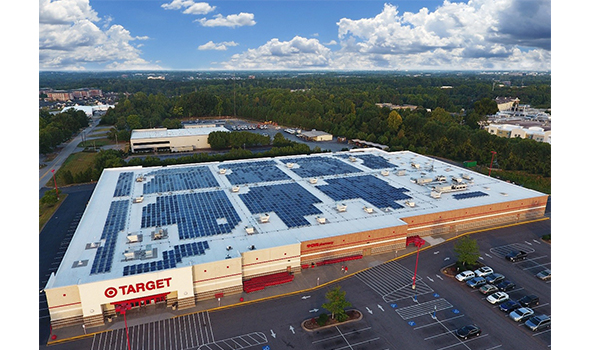 Earning the ENERGY STAR
Target was just named an ENERGY STAR Partner of the Year for the fourth year in a row, and for good reason. More than 1,500 of our buildings have earned ENERGY STAR status—the U.S. Environmental Protection Agency's certification of energy efficiency. Not only that, we've already reached our goal to certify at least 80 percent of our buildings by 2020.
We work with local partners to customize each store to meet the community's needs. That includes adding sustainable design elements—like LED lights, hydrofluorocarbon (HFC)-free refrigerants, and more—that help us use energy efficiently and reduce our carbon footprint. The results add up. Annually, our ENERGY STAR-certified Target stores save the equivalent amount of energy it would take to power more than 25,000 homes.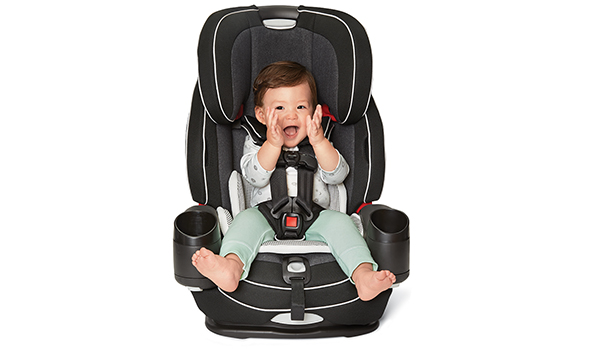 Giving car seat recycling a boost
Since 2016, we've invited guests to bring used car seats to their local Target store during special trade-in events and get great deals on new ones and more, like high chairs and strollers. Since then, we've held six of the popular events, collected more than half a million car seats—saving them from landfills—and recycled the parts into new products.
Want in on this deal? Bring any unwanted car seat to your local store for recycling April 22 through May 4, 2019, and save 20 percent on a new car seat, stroller or select baby gear.* Check out more details here.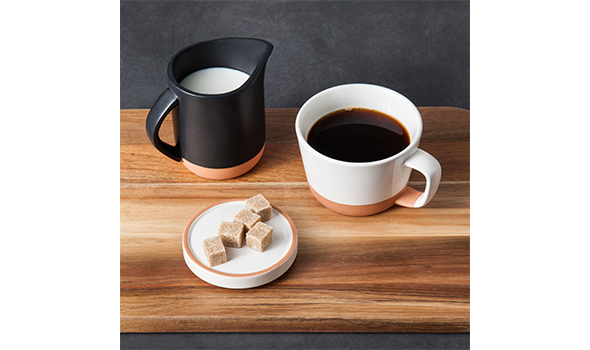 Stepping up to the coffee challenge
We know guests love their morning cup of joe, and now they'll have one more reason to get their favorite brews at Target. In March, we joined the Sustainable Coffee Challenge in partnership with Fair Trade USA. It's a commitment to earn certification for 100 percent of our Archer Farms coffee in both bags and pods by 2022. To achieve it, we'll work with suppliers who meet a set of social and environmental standards, which ultimately means more coffee farmers get better prices—a win for communities around the world.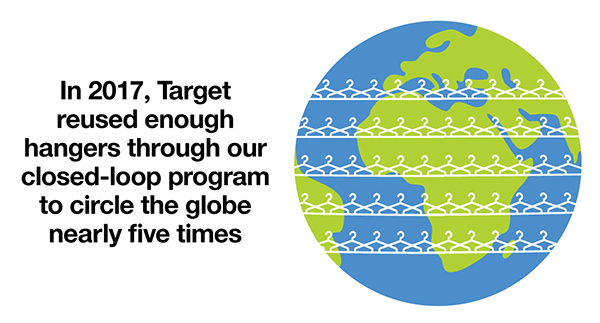 In 2017, Target reused enough hangers through our closed-loop program to circle the globe nearly five times.
Using our hangers again and again
Our fashion-forward guests love snapping up all the latest styles at Target. As the pieces fly off the racks, we're making sure our plastic hangers aren't piling up as waste. Back in 1994, we introduced a closed-loop hanger reuse program in our stores. It's still going strong today, ensuring each plastic hanger is reused as many times as possible—usually seven times or more—then repaired or melted down and made into new hangers. The number of hangers saved from landfills in 2017 alone could circle the globe nearly five times.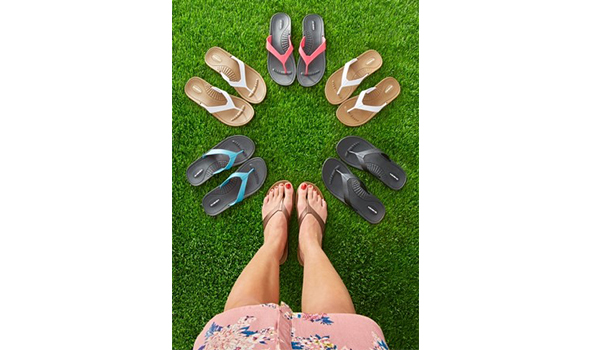 Walking the walk with footwear
Our guests are increasingly interested in products that are better for them and for the planet. They look to Target and we deliver with options like Okabashi shoes, now available in stores.

A family-operated business based in a small town in Georgia, Okabashi offers quality, affordable shoes made locally from recycled materials. Even better, once your shoes are well-worn and loved, they can be mailed back to Okabashi for recycling. The brand already has a loyal fan base, and we know our guests will love it too.
There's lots more to love! Explore the work our Target teams are doing to support and strengthen the communities where we do business.
*Restrictions apply.