March is Women's History Month, and we're inspired by the women who call themselves Target team members all year long.
From our stores to our HQ offices to our distribution centers, women across Target bring diverse accomplishments and backgrounds to work every day. These are just a few of their stories:

Julieta Felix, Senior Product Designer
Time at Target: One year, three months
Making her mark: A tireless advocate for people with disabilities, Julieta works at Target HQ and champions representation of adults of all abilities—in marketing, product design, on Target.com and more.
Family ties: Julieta grew up in Mexico, where her grandmother founded a school for children with blindness. Julieta's mom was a special education teacher for 25 years, and her step sister has a mental disability. "They all inspired me to take a deep look into what families need, and how I can help as a Target team member," Julieta said.
Julieta on her favorite part of working at Target: "Meeting amazing, strong women along this journey and banding together to make real change happen."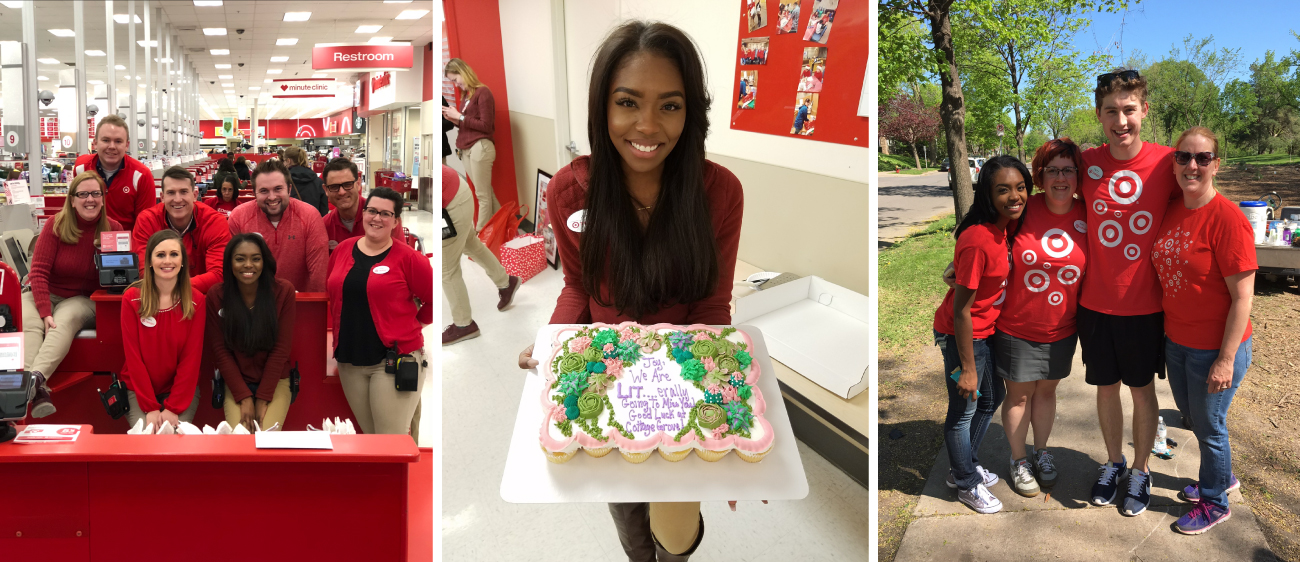 Joylin Munro, Executive Team Leader, Human Resources
Time at Target: Four years
Making connections: At our store in Cottage Grove, Minnesota, Joylin builds relationships with team members to help them become more confident, solve problems, and develop in their own careers.
Giving back: Joylin volunteers with her younger sister in her spare time. The two are involved with Girl Up, an organization focused on empowering girls and women around the world. "They help girls understand that their involvement is meaningful and that their voices are powerful," Joylin said.
Joylin on her greatest inspiration: "Growing up, my mom was always helping people in any way she could. That meant offering resources, donating food to the hungry, opening her home to those who needed a place to stay and so much more. She inspired me to find a career that would give me real world experiences in the business world and would also give me the satisfaction of helping others."

Krystal Robertson, Store Team Leader
Time at Target: Eight and a half years
Taking care of each other: Krystal and her team rallied to re-open their store in Ft. Myers, Florida, after Hurricane Irma in 2017. In the immediate aftermath of the storm, Krystal and her fellow team members drew strength from each other. "The day after the hurricane, as I arrived at the store to check on everything, I had so many team members showing up in the parking lot to check on me. Even more called to check in on my family and me, and they were doing the same for other team members," Krystal said.
Krystal on her team re-opening the store in three months: "After Hurricane Irma, I learned so much more about the resiliency of my team. Not only did they show tremendous resolve, but it was overwhelming to see their compassion and care for one another and our leadership during that hard time."