Looking forward to one last vacation before that busy summer sets in? We're not exaggerating when we say Target has everything you need to pack for your spring break—whether you're planning a beachy getaway, cross-country road trip or relaxing staycation.
From swimsuits and luggage to snacks and pajamas—read on for some of the best only-at-Target finds for every kind of vacay.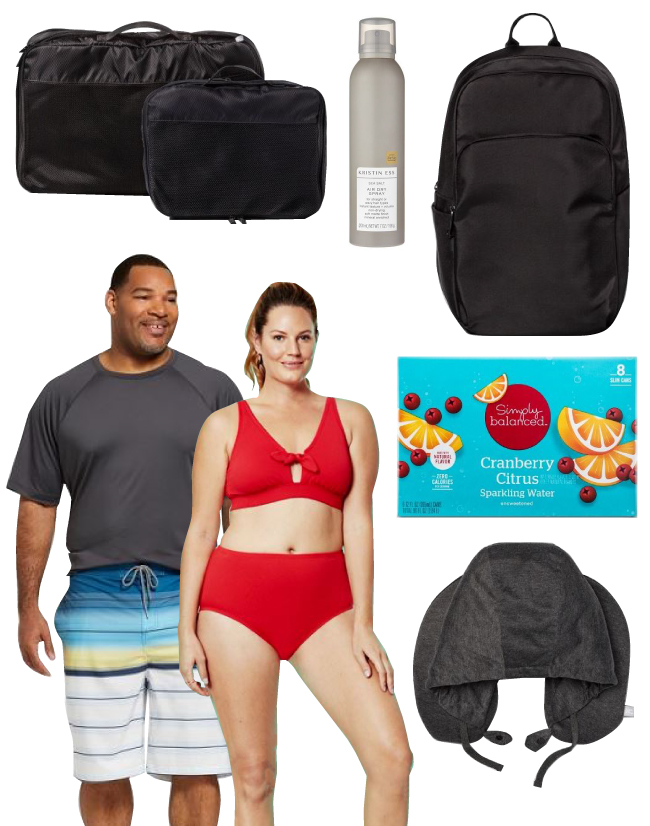 The jet set getaway
Hopping on a plane to get to your spring break destination? Our Made By Design luggage is carefully designed to make packing easy and affordable—and it's only at Target. Plus, we have a batch of new travel accessories that are stylish, stress-free and secure. Take this AntiTheft RFID Backpack, with features that keep your belongings safe, like slash-proof design and clip-on zippers. These 2-piece compression packing cubes are here to keep your bag effortlessly organized and efficient. And for a little extra shut-eye on the flight, we've got the perfect microbead travel pillow—complete with a hood for extra privacy and coziness.
If you're heading to the beach (lucky you), we've got you covered with Target style for the whole family—from Goodfellow swim trunks to our size-inclusive Kona Sol bikini tops and bottoms to endless of options of boys' and girls' swimsuits. For the effortlessly perfect vacation hair, pack the only-at-Target Kristin Ess sea salt air dry and soft shine beach wave sprays. And while you're catching those beachy rays, stay hydrated with Simply Balanced sparkling water.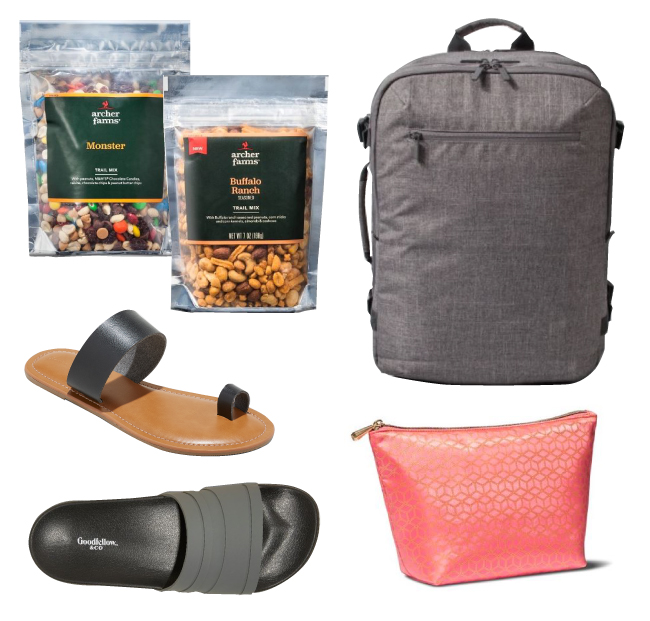 The road trip
So you're hopping in the car to get away this spring. Whether it's a cross-country trip or an hour's drive, first thing's first: Road trip snacks. To satisfy the cravings of the whole family on those long car rides, Archer Farms trail mixes hit the spot, especially guest-favorite Monster or Buffalo Ranch Seasoned flavors.
As for luggage, this Made By Design heather gray hybrid backpack is the perfectly stylish piece to sit in the backseat and this Sonia Kashuk makeup bag will help keep you organized. For shoes to wear behind the wheel or in the passenger seat, stay extra comfortable with these Kessie Slide Sandals from Universal Thread or Ricky Slide Sandals from Goodfellow.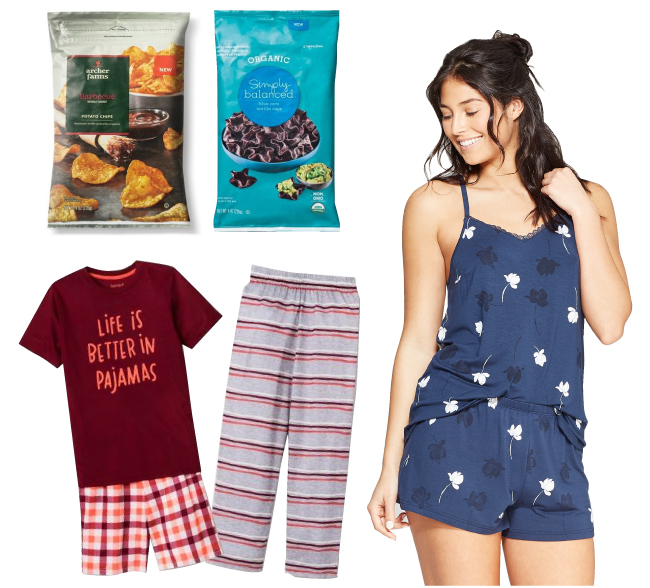 The staycation
There's no need to leave the house for some rest and relaxation over spring break. Cozy up with finds from one of our newest only-at-Target brands, Stars Above, like this women's floral print pajama set or this cami and shorts set. And for couch time comfort for the whole family, our matching family pajamas are available year-round.
For the perfect movie-marathon eats, our brands Archer Farms and Simply Balanced do the trick with totally snack-able Barbecue Kettle, Organic Blue Corn Tortilla Scoop and Simply Balanced Organic Nacho chips.
Looking for more ideas and inspiration? Check out the Spring Break Shop on Target.com.