What do you get when a colorful flock of half-chicken half-pig characters star in their own board game? It's Chickapig, a fun-filled strategy game that engages players in chess-like thinking as they move their chickapigs across the board, dodging opponents, hay bales and even a mischievous cow. The game's quickly become a family game night favorite, and earned a 2019 Toy of the Year award nomination for inspiring learning through play.
Strategy games that require guests to roll up their sleeves and get thinking are a growing trend, so we wanted to make Target the place to go to get Chickapig—along with a few other surprises they'll only find here.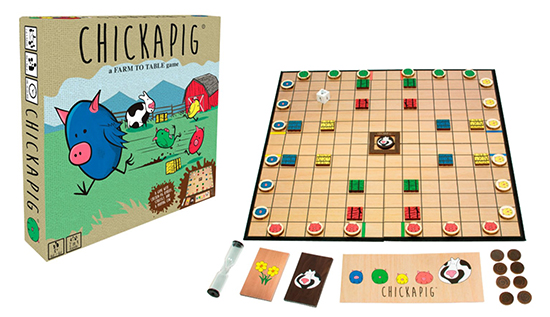 Starting this month, guests can pick up the game at Target—and continue the adventure with two new products: a children's book, "Little Joe Chickapig," and Chickapig plush toy, available exclusively at Target.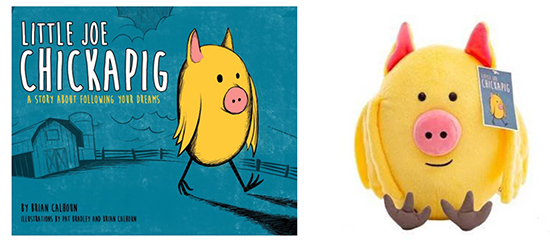 The book features an original story by the game's creator, Brian Calhoun, who hatched the idea for Chickapig with the help of musician and good friend, Dave Matthews. We caught up with the two to hear more on what it's all about.
You have a mega hit on your hands. What inspired you to create Chickapig?
Brian: I first declared I was going to make a board game after a night of playing boring games with friends. In the beginning, I had no ambitions of creating a game that would be available to the public—I just wanted to pass the tough test of having my friends actually enjoy playing it! I wanted a game that was very silly, but also one with enough substance and strategy that people would play it over and over.
What is it about Chickapig that kids and families love so much?
Brian: There's something about it that appeals to a wide range of people. It involves strategy and critical thinking, but also elements of luck and a huge social aspect that occurs when playing. A lot of games require full attention to be competitive.
Dave: You can get pretty serious about a game of Chickapig without spending the entire game thinking about Chickapig.
What do you hope young readers will take away from the book, "Little Joe Chickapig?"
Brian: I hope the book sparks imagination and encourages young readers to follow their dreams. Little Joe wants to leave the family farm but doesn't know how. His mother gives encouragement by telling tales of creatures who have left their stereotypical roles and gone on to follow their passions. As young readers meet characters—from a scary bear who becomes a gentle doctor, to a tiny mouse who explores outer space—my hope is the message will be to follow the dreams that are true to your heart, even if society and tradition seem to stand in the way.
What is family game night like at your house?
Dave: The great thing about Chickapig is that goes well with beer and pizza, or with milk and cookies, so it's perfect for any game night we have.
Take a peek at one of their game nights in action:
Want even more options to take family game night to the next level? Check out our full assortment of games and puzzles on Target.com.