Entertaining guru Camille Styles knows how to make every Easter moment feel magical, from beautiful baskets and décor to festive treats. But her number one tip for pulling off an effortless, affordable (and oh-so-adorable) celebration? Target, of course. (It's true—we have something for everybunny!)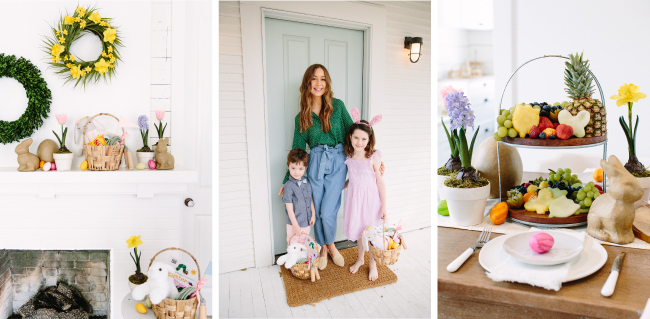 "Target is truly my one-stop shop for all things Easter," says Camille. "In addition to browsing for everything cute and colorful to fill Easter baskets, I can deck out my kids (and myself) head-to-toe in on-trend Easter outfits that won't break the bank. And of course I'll stock up on all our groceries for brunch (including the wine!) while I'm at it. During this crazy busy time of year, I love that I can count on one big Target run to get ready for our Easter celebrations."
Ready for a dose of sweetness? Read on as Camille gives a peek into her Easter prep, and serves up some easy ideas you can recreate at home with just one Target run.
First things first—where do you start? And how do you dream up a theme?
When I'm planning any type of holiday or gathering, I love to take my inspiration from something a little unexpected, and when I saw this Easter version of one of our family's favorite books, I knew it was just the launching pad I needed to creatively tie together all the elements of this year's Easter decor and menu. I usually don't take my themes too literally. Incorporating a nod to nature, lots of fresh fruit, and Eric Carle-inspired tissue paper Easter eggs will give our celebration a cohesive feel without being fussy. And cheery yellows, vibrant oranges, and sweet pinks and purples were easy to find in Target's Easter decor pieces, especially these faux potted flowers. They'll look the part all season long and are great arranged on a mantle, placed near the front door or on the table as a centerpiece.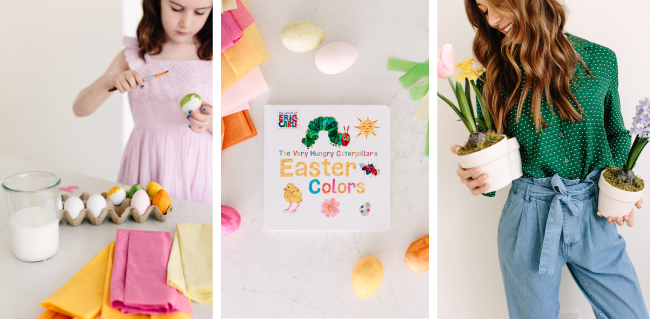 Tissue paper eggs? Tell us more…
I love a simple DIY that even kids can get in on—and bonus when there's less mess. My kiddos loved applying diluted glue and tissue paper strips to these white Easter eggs from Spritz. The eggs look adorable tucked just about anywhere and when they're sneakily placed in a centerpiece, they bring a sense of "the hunt" to the table.
Super-cute eggs—check. What about baskets?
I love surprising the kids when they wake up on Easter morning with fun baskets. Of course we need a few sweets (these Reese's Gold Eggs are my fave), but don't be afraid to think beyond candy—cute books, games and something to wear are always big hits. I like to choose one larger item—like a plush toy or this adorable bunny throw pillow)—to really fill out the space. And for a festive addition that lets kids keep track of their loot, insert a pennant flag or tie a personalized tag to each basket.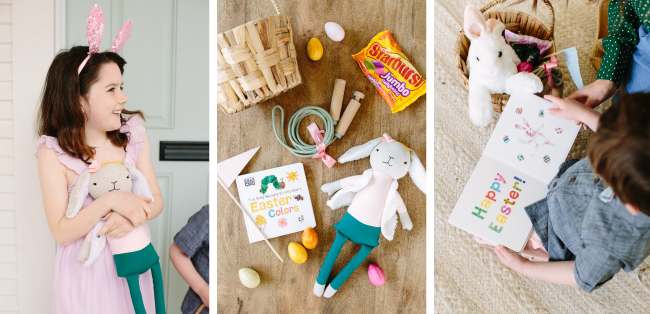 What about the menu and a pretty table? Any time-saving tips?
For the table, invest in classic basics like dinnerware and linen napkins in neutrals and whites, then add a few details to add seasonality to your space (the tissue paper eggs and faux flowers are perfect touches here, too). And instead of spending hours in the kitchen, put together an easy brunch menu with high-quality store-bought items presented in a fresh way. My go-to is a spiral cut ham with Hawaiian sweet rolls, dressed up with fun condiments.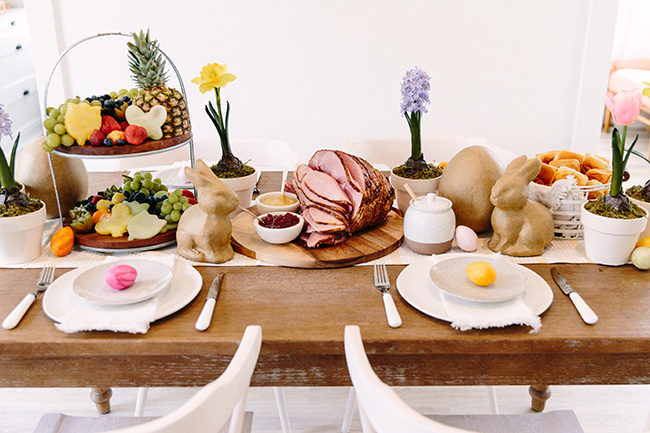 I also like to balance all the candy by giving kids some healthier options via a beautiful display. They'll love using Easter-themed cookie cutters to help cut the fruit into fun shapes. Then, I whip up an easy but impressive white chocolate bark using candy that doesn't make it into the baskets (I used these great new Cadbury Shimmer Eggs for a touch of shine). The kids can help, and it looks beautiful when packaged up and sent home with guests. Oh, and my very favorite hack: having Shipt deliver all of my groceries, paperware and more directly to my door. It saves so much time.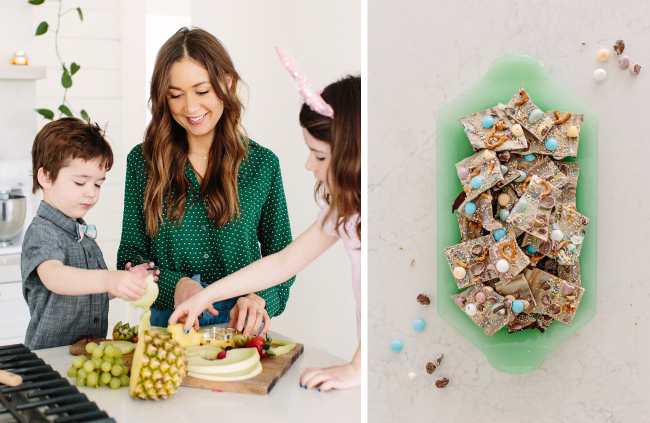 Delish! Any last tips to guarantee that any gathering's a blast?
If ever in doubt, just add bunny ears. Seriously, though—with all the prep done in a snap (thanks, Target!), go ahead and focus on egg hunts, enjoy brunch and soak up time with your family and friends.
Hop on over to Target or Target.com today to start planning your own Easter fun.