The only thing we heart more than guests' glowing love for Target? A chance to return the favor! Target Circle lets us love our guests right back. It's a super-cool (and fast-growing) loyalty test packed with fun surprises, community giving and personalized perks—oh, and how about earning 1% on every trip to redeem later? Yep, it's true. And joining—and saving—couldn't be easier. (Pssst… even better, it's totally free). So far, hundreds of thousands of guests in Dallas-Fort Worth are feeling the love (rave reviews, millions of transactions and nearly $250,000 in guest-directed local giving have been pouring in). Now we're so excited to expand the test to millions more shoppers on Feb. 19. Charlotte, Denver, Indianapolis, Kansas City and Phoenix, get ready to join Target Circle!
"A Target Run is much more than checking items off your list—it's about discovery, inspiration and an effortlessly joyful shopping experience. And we're out to make that experience even more rewarding with Target Circle, offering guests more benefits and attracting new shoppers," says Rick Gomez, executive vice president, chief marketing officer and chief digital officer, Target. "We're building deeper relationships with guests and serving up the most personalized way to shop Target yet, all while encouraging everyone to choose Target again and again."
So, just how easy is joining? Guests in the six test markets simply sign up at Target.com/circle, by downloading the Target app, or via phone number as they check out at their local store. Then, the awesomeness begins with these benefits (and more):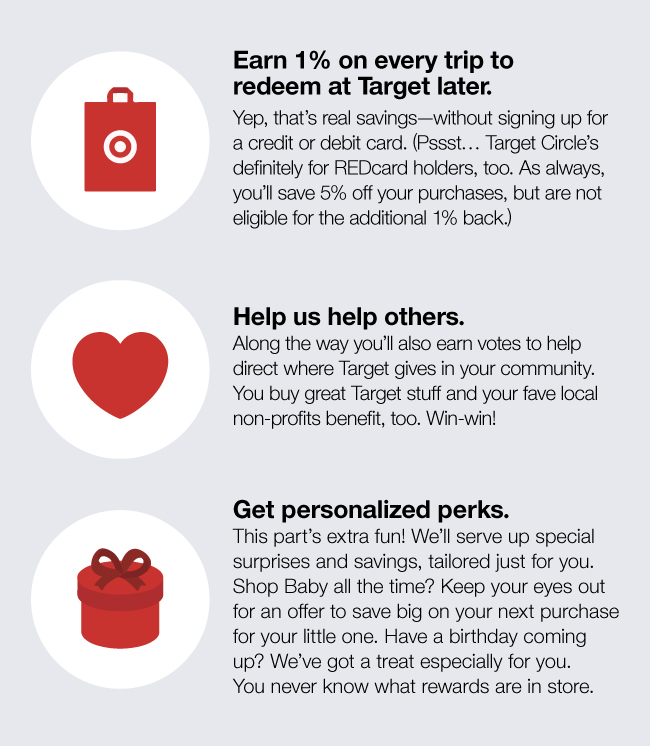 A grey image with three icons (a shopping bag, heart and gift) reads:
Earn 1% on every trip to redeem at Target later. Yep, that's real savings—without signing up for a credit or debit card. (Pssst… Target Circle's definitely for REDcard holders, too. As always, you'll save 5% off your purchases, but are not eligible for the additional 1% back.)
Help us help others. Along the way you'll also earn votes to help direct where Target gives in your community. You buy great Target stuff and your fave local non-profits benefit, too. Win-win!
Get personalized perks. This part's extra fun! We'll serve up special surprises and savings, tailored just for you. Shop Baby all the time? Keep your eyes out for an offer to save big on your next purchase for your little one. Have a birthday coming up? We've got a treat especially for you. You never know what rewards are in store.
Guests can also receive free next-day delivery on essentials with Restock.

And there's much more in store—with Target Circle, we're on a quest to create even more personalized, relevant ways to enhance our guests' experiences, making every Target Run easier and more fun.
Stay tuned to A Bullseye View for updates on Target Circle. We're just getting started!