From repping our brand to making joyful moments for their guests and communities, our team members are the stars of Target's show. We work to take care of our teams and their families all year long in many ways, including investing in competitive benefits, training, career opportunities, and efforts to raise our minimum hourly wage to $15 by the end of 2020.
This holiday, we wanted to do a little something extra to say thanks. So we introduced work.win.give., an appreciation program that awards one hourly team member in each of our 1,800+ stores and 39 distribution centers the chance to give a $500 Target donation to a local community organization of their choice—along with a $500 Target GiftCard to keep for themselves.
Meet some of our work.win.give. winners, and find out what it meant to win and why the causes they chose are close to their hearts.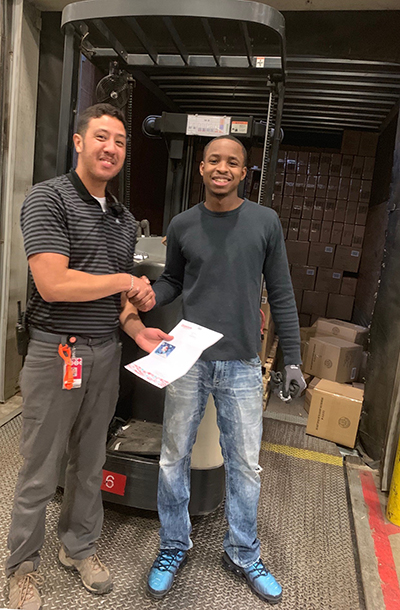 At our distribution center in Savannah, Georgia,
Aaron Hightower
(pictured above right, with his manager, Danny) chose
St. Jude Children's Research Hospital
to receive his Target donation. A longtime Target partner, St. Jude offers free lifesaving treatment to children from around the world with cancer and other life-threatening diseases.
Aaron is a new dad himself. "I know how important the holidays are for children, so I wanted to share this special moment," he says.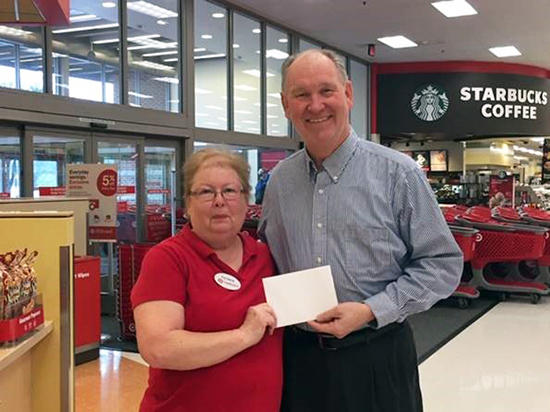 Karleene Skuchko, a team member at our Cinco Ranch store in Katy, Texas, knew she wanted her Target donation to honor her son, Jerry, who served 5 years in the Navy. She proudly chose The Fisher House Foundation, which builds homes where families of military members and veterans can stay free of charge while a loved one is in the hospital. "They needed things to make their facility feel like home, so the funds were greatly appreciated," she says.
Karleene and her family are survivors themselves. After suffering devastating property damage in Hurricane Harvey in 2017, Karleene came out of retirement and joined her local Target team. It was the start of a second career she loves, and she's using her GiftCard winnings to replace linens and other items lost in the storm as she continues to rebuild her family's home.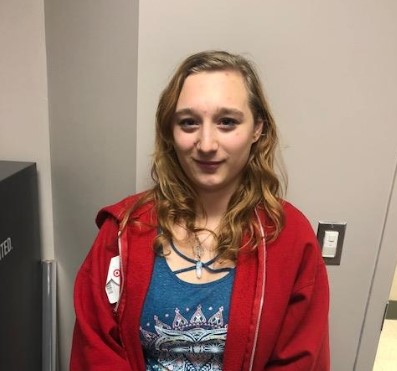 Newly hired Beauty team member
Theresa Yahr
won her Shakopee, Minnesota store's donation, and gave it to the
Ronald McDonald Foundation
—an organization that played an important role in her family's history. Several family members volunteered there for many years, and when her brother was hospitalized at a specialty care facility in Kentucky, Theresa's mother lived at the Ronald McDonald House nearby to be close to him, receiving free meals and a place to stay. This year, on the six-year anniversary of her brother's passing, Theresa honored his memory with the donation.
"I was thrilled to share the news about the donation with the Ronald McDonald Foundation. I'm so happy to send it their way so they can continue comforting others the way they did my family," she says.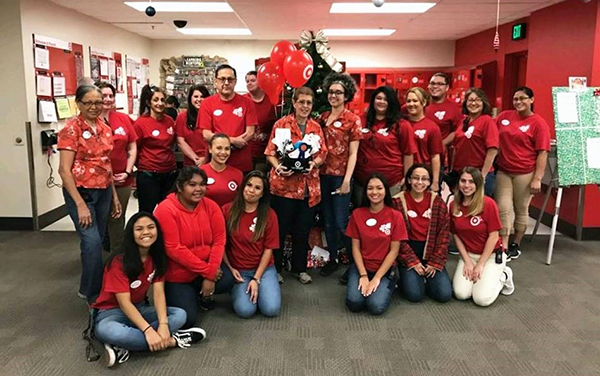 Ten-year Guest Service team veteran Mary Mosely loves animals, including her beloved rescue dogs. So when she heard she'd won the Target donation at her store in Oahu, Hawaii, she wanted it to go to a very special organization in her life—the Oahu Society for the Prevention of Cruelty to Animals—for necessities like cleaning and office supplies. She discovered the nonprofit no-kill shelter years ago at a Target volunteer event and admires it for the level of care it provides, despite limited resources.
"I'm so thankful for all that Target does for me, and for all our team members and communities," she says. It was nice to be appreciated, but even nicer to give back to an organization that could truly use the donation."
Learn more about the work we do to take care of our teams, guests, communities and the planet. Thinking of joining Team Target? Visit our Careers pages to explore available roles and apply. Meet more of our team members on the Pulse blog.