Parents rejoice: Cloud Island, a brand you'll find only at Target, is expanding into essentials, including diapers, wipes, toiletries and feeding products! Since launching in May 2017, the brand has become a guest favorite, known for its stylish and affordable nursery décor, bedding, bath and layette products, all created by Target's very own design team.
"With all of Target's new brands, we think about ways to expand upon the original idea," says Mark Tritton, executive vice president and chief merchandising officer, Target. "As we talked about Cloud Island, the essentials category was always there. The idea was around better-for-you, dependable, affordable and accessible products that are good for your baby and your family. Now, building on the success we've seen with the brand over the past year, we're bringing that idea to life."
As for what to expect, the expansion of Cloud Island includes 30 affordable, baby-essential items that never compromise on performance or durability. It's available in all Target stores and on Target.com at prices ranging from $0.99 to $21.99, with most items under $10. Another thing that sets the brand apart? We worked with hundreds of parents to create the assortment, so it's Target guest tested and approved!
Want to hear more about how the collection came to life? We chatted with Robin Beck, a chemist at Target who helped create the line: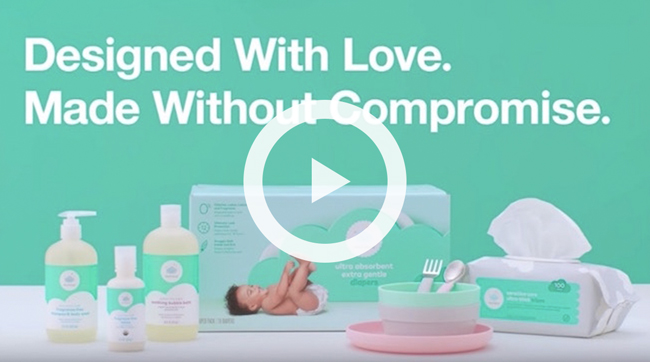 What was the process like to create the new Cloud Island products?
Target's internal team, which includes engineers and chemists, like me, created the line from the ground up. We held in-home interviews, focus groups and shopping trips with hundreds of parents to better understand what they're looking for in baby essentials. We also worked with pediatricians and dermatologists to verify the product claims so parents can feel confident when purchasing these products. It's been quite the process—over two years!—but ultimately we accomplished exactly what we set out to do.
How did Target come up with these specific items?
As a mom myself, I remember shopping for these types of products when I had little ones and often had to choose between quality and affordability, so I know from personal experience that there's a need that isn't currently being met for parents with young kids at home. We knew Cloud Island was already a beloved guest brand, so it was a natural fit to expand the line to include better-for-you baby options. Through conversations with hundreds of parents, we were able to pinpoint the core items and attributes our guests are looking for most in a line of baby essentials.
What sets these products apart from others on the market?
The collection is benchmarked against premium brands based on the ingredients used in each item. The best part? It's around 30 to 40 percent less expensive, but just as effective. Wipes are ultra-thick and made with 99 percent water and plant-based ingredients. Toiletries are dermatologist-approved and made without phthalates and parabens. Feeding products are also phthalate free and made without BPA and PVC. Diapers offer 12-hour leak protection and feature the exclusive Tri-WrapTM fold with no middle crease, giving them a better fit than standard offerings.
In your research, what did you learn from guests that made its way into the collection?
Through conversations with our guests, they shared over and over again that they are looking for premium, high-quality baby products at affordable prices, so we set out to create just that. We also went a step further to understand what attributes to prioritize in each product. For example, parents told us they use baby wipes all over a baby's skin, including face and hands, so we added moisturizing organic coconut oil to make the wipes effective and extra gentle. This collection really was a team effort between Target and our guests!
The Cloud Island essentials collection launches in Target stores and on Target.com on Jan. 20. Prices range from $0.99 to $21.99, with most items under $10.