Incredible music, films and art. Interactive, high-tech experiences (seriously—you can even spread your wings and fly, thanks to virtual reality). And the chance to connect with some of the most creative minds in the world. Sign us up!
It's all happening right now at South by Southwest (SXSW) in Austin. For years, Target teams have trekked to Texas to soak in the entrepreneurial, future-forward spirit of the renowned SXSW Interactive festival. But yesterday, we had the (highly-coveted) chance to share our own insight and inspiration—this time, from the stage.
Take a peek into Target's on-stage moments at SXSW:
It's in our DNA: Making tech more accessible for everyone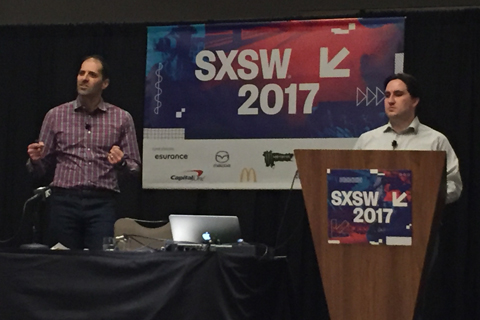 Sean Murphy
, vice president of product at Target, and
Ryan Strunk
, one of our lead accessibility consultants, revealed how Target's creating a better tech experience for
all
of our guests—including those with disabilities—across our website, apps and digital marketing. And by making accessibility part of our digital DNA, Target's fueling culture change and innovation along the way.
Sean and Ryan explained how Target's accessibility and digital teams work hand-in-hand to make Target's apps, website and digital marketing accessible. They also illustrated examples of how accessibility leads to better design, better code and better digital products.
"Our goal at Target is to make all of our guest-facing digital experiences accessible for everyone," Ryan said. "It's about serving all of our guests and creating joyful experiences—experiences that I, as a blind person, can access just like everybody else."
And Sean and Ryan weren't the only ones dropping knowledge and fielding questions about Target's thought-leadership…
Corporations + start-ups: Driving innovation together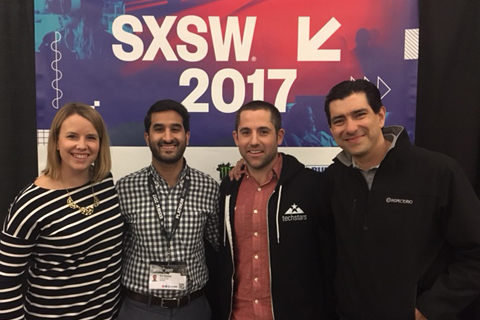 A crew of our start-up partners—
Lizzy Ellingson
of Blueprint Registry,
Atif Siddiqui
of Branch and
Fernando Moncayo
of Inspectorio (pictured with Techstars managing director
Ryan Broshar
)—took the stage to give a room of entrepreneurs, venture capitalists and techies a behind-the-scenes look at their Target + Techstars experiences.
This past summer, Lizzy, Atif, Fernando and their teams (along with eight other start-ups) moved in to Target's Minneapolis headquarters for a rigorous 14 weeks of mentoring, collaboration and learning—all aimed at solving some of the biggest challenges in retail, together. (Learn more about Target + Techstars and the start-ups' work here.)
Lizzy's words of advice to the entrepreneurs in the room: "It doesn't matter what stage you're in—you can definitely benefit from an accelerator program. Being part of the Target + Techstars retail accelerator gave us the jump-start we needed to grow our business. Whether it's networking with industry experts, getting guidance from mentors or learning alongside the other startups in the program, accelerators can be a game-changer for your business."
And Target's just getting started—a second wave of Target + Techstars start-ups will move into our Minneapolis headquarters early this summer.
Now that's one busy, inspiring day! Until next year, SXSW.
Ready to join us?
Interested in applying for the Target + Techstars retail accelerator class of 2017? Get the details. Our tech and digital teams are also hiring—explore career opportunities at Target!